Welcome to Peca Products
Serving the optical industry since 1978
To purchase our quality products, please visit cleanoptics.com
A great deal of change has occurred in the optical and photo industry over the past thirty-five years, and Peca Products is proud to have been a part of this exciting evolutionary period.
Beginning in 1978 as a manufacturer of Imprinted Lens Cleaning Tissue and Imprinted Lens Cleaning Fluids, Peca Products has continued with a steady and consistent growth that now includes more than 300 items in 30 different product categories that are sold worldwide.
While continuing to manufacture and distribute products for the Photographic Industry, the product line has now grown to include the Optical, Medical, Office Supply, Sporting Goods, Digital Forensics and Sewing Machine Industries. Peca Products also manufactures products and provides OEM packaging for large number of major manufacturers such as Kodak, Polaroid, Leica, Otis, Nightforce and Nikon.
Peca Products continues to be the leader in private labeled products for the optical industry. Lens paper, lens fluids (including our Formula MC) and optical lens care kits can be imprinted with your company name at a modest cost. Imprinting also does not require large quantities to be economical. Call our friendly sales staff to keep your name in front of your customers.
Peca Products holds a number of trademarks and patents. Peca Products developed Formula MC, a specialty lens cleaner that is noted for properly cleaning multi-coated filters and optics. Formula MC has been tested and approved for use on manned space flights. Peca Products also holds the patent on the Type III Techni-Valve, the state of the art chrome trigger valve used with Type III refill dusting spray cans. Lens-Brite and Dust-Pro are other nationally sold trademark products manufactured by Peca Products.
In 1988 Peca Products purchased the Romar Company. The Romar line includes "Post Pix" (turn photos into Post Cards), "Photo Magnets", " My Sleeve" scrapbook cleaning cloth, and the "Kaleidoscope Kit" to create kaleidoscope scrapbook photos easily.
Please visit our "Products" page
and our other websites.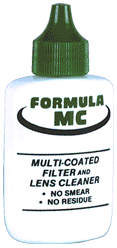 Formula MC - The finest multi-coated lens cleaner on the market
Formula MC - tested, purchased, and used on manned space flights
Formula MC - for use on all optics - glass or plastic
Made in the USA
LP-46 Lens Paper
Meets A-A-50177B
"Wet" cleaning tissue
Made in the USA