Car Detailing Cloth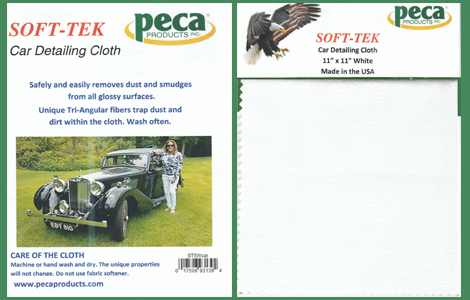 Super soft. Will not scratch
Tri-anguler fibers lift away dust and dirt
Chemically free
Unsewn edges
Fully washable...do not use fabric softener
Made in the USA!
Available in multiple sizes and three different colors: Signature Blue, White and Black. Stock sizes are:
8" x 8"
11" x 11"
20" x 20"
Custom sizes available to OEMs, please call.
May be purchased at cleanoptics.com
Automobile Cleaning Kit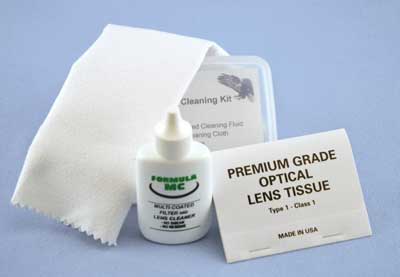 Convenient automobile cleaning kit.
Clean and Polish all in one. Use a couple sheets of tissue with a few drops of MC and wipe your windows and mirrors in a circular motion until the liquid is gone. Then wipe with Soft-Tek Car Detailing Cloth until all the streaks are gone. When finished use your Soft-Tek to wipe down your LED screen, dust and polish your dash and dash board and your leather or vinyl interior. Soft-Tek is machine or hand washable (no fabric softener) after drying place back in your kit.
1 Travel Size: 1 oz. if MC Mulita coated glass cleaner.
1 Premium grade optical tissue
1 8"x 8" Car Detailing Cloth
May be purchased at cleanoptics.com
Peca Products LensBrite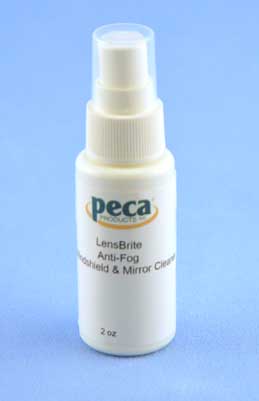 2 oz. Anti-Fog window and mirror cleaner. Get squeaky clean windows and mirrors and prevent them from fogging up. Simple spray on the inside windows and mirrors and wipe in circular motion with a Peca Car Detailing Cloth until liquid disappears. Small enough to fit in your glove box.
May be purchased at cleanoptics.com
Contact Us
471 Burton Street, Beloit, WI 53511
1.800.999.7322
dennis@pecaproducts.com
Monday-Thursday: 8-4:30
Friday: 8-Noon
Saturday, Sunday: Closed
Return Policies
Peca Products will accept product returned within 15 days of shipment with prior approval. Returns must be in original packaging and suitable for resale. A 15% restocking charge will be applied.
Find Us here: