Formula MC Lens Cleaning Fluid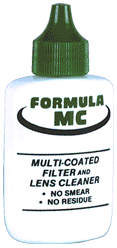 No Smear - No Residue Formula MC will clean multi-coated filters and optics without leaving behind residue.
Easy To Use Formula MC comes in handy 1 oz. size.
Choose from fine mist spray or controlled dropper tip.
Higher Quality Our cleaners are made with 100% distilled water and contain the chemicals needed to properly clean filters and lenses.
Instructions On Bottle Instructions are clearly printed on the back of the bottle for easy reference.
Available in 1 oz. dropper bottles and 1 oz. spray bottles
Used by NASA on manned space flights
Mixed and bottled in Beloit, Wisconsin
LensBrite Anti-Fog Lens Cleaning Fluid
Anti-Fog
Anti-Static
LensBrite is safe for cleaning all glass or plastic optics.
Unique formula for superior heavy duty cleaning.
Anti-Fog action for up to 7 days Available in 1 oz. dropper bottles, 1 oz. and 4 oz. spray bottles
Mixed and bottled in Beloit, Wisconsin.
Formula MC and LensBrite may be purchased at cleanoptics.com
Contact Us
471 Burton Street, Beloit, WI 53511
1.800.999.7322
dennis@pecaproducts.com
Monday-Thursday: 8-4:30
Friday: 8-Noon
Saturday, Sunday: Closed
Return Policies
Peca Products will accept product returned within 15 days of shipment with prior approval. Returns must be in original packaging and suitable for resale. A 15% restocking charge will be applied.
Find Us here: