Soft-Tek Micro Fiber Lens Cloth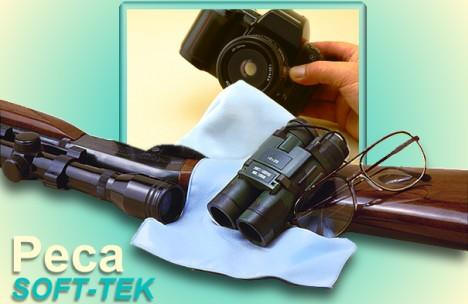 The Soft-Tek Cleaning Cloth is the result of advanced micro-fiber technology. Non-woven fibers together with extra thickness allow the Soft-Tek Cleaning Cloth to lift away grease and dirt from lens surfaces safely and quickly.
The Soft-Tek Lens Cleaning Cloth is chemical free.
Soft-Tek can be washed repeatedly and will remain soft.
The Soft-Tek Cleaning Cloth is safe for all glass and plastic lenses. In addition it will clean most high gloss surfaces.
Made in the USA!
Compare for yourself.
Clean a pair of eyeglasses or sunglasses with a standard cloth such as a handkerchief. Now clean them with the Soft-Tek Cleaning Cloth. You will immediately notice the difference. The Soft-Tek Cleaning Cloth has a "gripping" feel to it as it removes the dirt.
Available in multiple sizes and three different colors: Signature Blue, White and Black. Stock sizes are:
3.5" x3.5"
8" x 8"
11" x 11"
20" x 20"
The Soft-Tek microfiber cloth may be purchased at cleanoptics.com
Contact Us
471 Burton Street, Beloit, WI 53511
1.800.999.7322
dennis@pecaproducts.com
Monday-Thursday: 8-4:30
Friday: 8-Noon
Saturday, Sunday: Closed
Return Policies
Peca Products will accept product returned within 15 days of shipment with prior approval. Returns must be in original packaging and suitable for resale. A 15% restocking charge will be applied.
Find Us here: