Lens Paper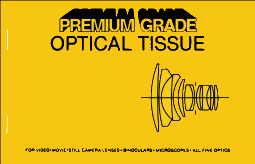 Type 1 Class 1 Lens Paper
Type 1, Class 1 Lens Cleaning Tissue Paper has been the camera and optical industry standard for many years. It is specified as a "dry use" tissue. There has always been a concern in the camera and optical industry that putting excessive liquid lens cleaning fluids directly on the lens surface may allow fluid to enter between lens elements. The recommended procedure for using Type 1, Class 1 tissue is to put a few drops of fluid on a piece of tissue and proceed to clean the lens or optical surface.
Meets government specification #A-A-50177B for Type 1 Class 1 Specification #A-A-50177B replaces A-A-50177A, NNN-P-40; UU-P-313; Mil-P-13988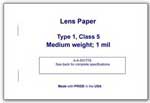 Type 1 Class 5 Lens Paper
Type 1, Class 5 Lens Cleaning Tissue Paper was developed by Peca Products Inc. at the request of the US Department of Defense. Iis the recommended and authorized lens cleaning tissue paper for cleaning all night vision optics used by the Armed Forces. Until recently it was available through a centralized Federal Government location. An acquisition reform has taken place, and now members of the Armed Forces are advised to purchase Type 1, Class 5 lens paper directly from Peca Products Inc. Type 1, Class 5 tissue paper is manufactured using different materials than other types of tissue. It looks and feels different. It is manufactured as a "wet use" tissue paper.
Meets government specification #A-A-50177B
Lens tissue may be purchased at cleanoptics.com
Contact Us
471 Burton Street, Beloit, WI 53511
1.800.999.7322
dennis@pecaproducts.com
Monday-Thursday: 8-4:30
Friday: 8-Noon
Saturday, Sunday: Closed
Return Policies
Peca Products will accept product returned within 15 days of shipment with prior approval. Returns must be in original packaging and suitable for resale. A 15% restocking charge will be applied.
Find Us here: